Free FLV Converter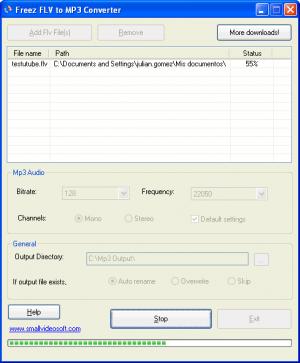 Pazera Free FLV to AVI Converter is a Polish program meant for Flash Video (FLV, SWF) into AVI or MPEG format conversion.

FLV and SWF formats are very popular in the Internet and one may encounter them e.g. when viewing video clips in the YouTube etc. websites. When saving the mentioned clips to a hard drive, most of the software used uses the FLV format by default which, despite its advantages such as small size, has many disadvantages and the most important one is, no doubt, the fact that a FLV or SWF file may not be played on a smartphone or a home DVD player, not to mention attempting to process it on a computer. A solution of this problem is the conversion in to more popular and widely used formats.

Pazera Free FLV to AVI Converter is a simple tool, characterized by an intuitive English graphic interface. It allows converting many video files at a time using the same settings. These include e.g. audio/video codec configuration, adjustment of bitrate, sampling frequency, resolution, frames per second, dual channel conversion, scissoring the display etc. The program can convert without video stream copying. What is important, it allows saving settings used for conversion for further use.

Caution! During installation, the creator suggests the user to install additional software in the form of a Babylon dictionary and translator.
LicenseFree
ProducerKoyote Software
LanguageEnglish
OSXP/Vista/7
Size397.34 KB
Downloads1506
Rate:

34.9 MB

12747

627 KB

11100

592 KB

8255

15.1 MB

7978

736 KB

7826
401 KB

250

8.6 MB

1362

3.4 MB

3135

2.4 MB

2203

2.4 MB

3023